Having your own private outdoor space is just as important for our health as it is for our home's aesthetics. More than ever, we're noticing that a bit of outside space can go a long way to improving your everyday life.
A study by Post Office Money in 2019 estimated that adding a garden to your property can add up 77% ROI based on landscaping costs of £2,750. In contrast, a significant extension, which could cost up to £90,000, would only see an ROI of 34%.
Landscaping is not the only way you can add value to your home by improving your outside space. According to MyToolShed in2019, a well-maintained garden and its wider aspects could increase your property value by 20% or £45,000+ when listing it on the market.
When it comes to improving your property's outdoor aesthetics and value, there are plenty of things to consider.
1. Maintain your Lawn
To make a great first impression, the first step is to give your lawn a tidy and mow. Remove any fallen leaves in the autumn months and any other debris that may have accumulated.
2. Remove Weeds
An eyesore of any garden, weeds can pop-up almost anywhere. Keep an eye on your flowerbeds and around stone slabs where new weeds are beginning to make an entrance.
3. Apply a Fresh Coat of Paint
Old and flaky paint is a big turn off for prospective buyers.Make sure to put a fresh coat of paint on fading surfaces and this will give your outdoor space a lift almost immediately, as well as improving weather resistance in the winter months.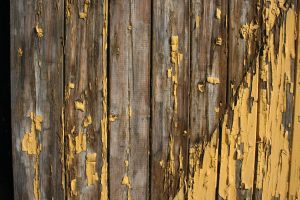 4. Treat Wooden Surfaces
The same care and attention also needs to be applied to any exposed wooden areas. Treating your decking with stains and preservers will not only boost the colour and aesthetics, but will improve its weather resistance too. 
5. Repair any broken panelling or replace damaged aspects of your garden
Whether its fencing, a water feature or garden furniture, ensure that you repair or replace anything that is looking worse for wear. By keeping on top of any maintenance you will see a noticeable improvement in the look and feel of your outdoor space – as well as helping to mask the age of an older home. 
6. Improve Privacy
No potential buyer wants to be overlooked in their new garden, taking the time to ensure that your garden feels private can go a long way to making it more valuable. Tall growing bushes can be a good option, however, in built-up areas this can be tricky. Try high–climbing plants instead to improve privacy in restricted areas.  
Bear in mind that these can take some time to grow, so plan ahead, or help a potential buyer imagine the benefit of your fledgling hedgerows that may not be tall enough right away. 
7. Clear Pathways and Clean Pavestones
A quick win is to ensure that the stonework throughout your garden in clean and well-maintained. Removing weeds and clearing debris is a minimum but using a power washer to remove years of dirt build up can have your pavestones looking brand new in no time. 
8. Install Outdoor Lighting
Summer evenings are primetime for garden enjoyment and having the option to light up your garden and extend the evening is a lovely benefit to have. Outdoor lighting will not only make it safer to navigate your garden at night–time but also add a reassuring security feature too. 
9. A Garden Shed and Storage
Storage is a big plus point for any potential buyer and a well-maintained shed with decent space for all their garden supplies, tools and outdoor equipment can go a long way. Sheds can be bought in a wide range of sizes and styles, so even for the most compact outdoor spaces, there is a storage solution for you. 
10. Keep It Manageable
While vast floral gardens and complex arrangements are a lifelong project for many, it might not be up to everyone's taste. A certain amount of maintenance is okay and accepted by a potential buyer, yet they might not be willing to look after a huge number of plants or extravagant features.  
If you are looking to make your garden as appealing as possible to a prospective buyer, keep it simple and low maintenance. 
Looking for more tips and guides for selling your home? Or ways in which you can add value to your property? Explore our resource centre for a range of helpful guides.
Please enter your details and get a free instant valuation of your property